AC/DC: The 80's Albums
On February 19th, 1980, at approximately 7:45 pm, AC/DC lead singer Bon Scott was found dead in the passenger seat of his friend's car in East Dulwich, an area of South East London, England. It was the end of an era for the Australian band. Bon played a large part in their rise to stardom in a short five years, completely transforming the band.
He was replaced by vocalist Brian Johnson, and the first album the band recorded with their new vocalist was "Back in Black," released on July 25th, 1980. It's their best-selling album by a wide margin, selling over sixty million copies worldwide. Number two on the list is "Highway To Hell," which has sold just over twenty-three million copies. 
Their next album, 1981's "For Those About to Rock," was their first album to hit number one in the US. It wasn't until the 2008 release of  "Black Ice" that they would have a second. That 1981 release is considered to be their best effort by many, including Rolling Stone magazine, even though it's only sold four million copies; a massive drop-off from the retail success of "Back In Black."
Their next three albums were commercial flops. Largely dismissed by critics and fans alike, it looked as if their rise had peaked, and it would only be a downhill ride from there. So, what happened? Are those albums as bad as their press? 
"Flick Of The Switch"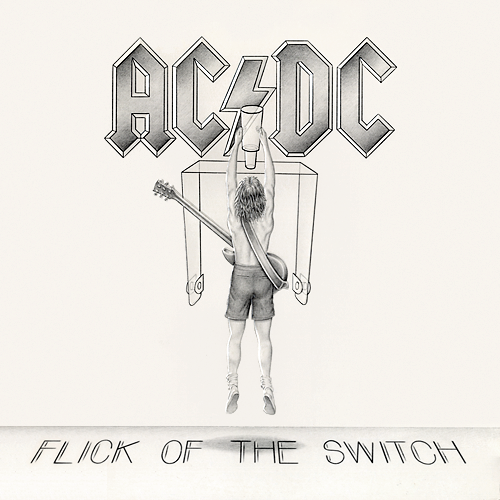 Their ninth studio album, "Flick Of The Switch," was released on August 15th, 1983. They decided they didn't want Robert "Mutt" Lange to produce it, as he had their previous three, so they produced it themselves. The band felt the music was losing the raw, unpolished feel and wanted the album to have a more live feel. Their engineer, Tony Platt, explains: 
"There was a genuine desire to get back to the basics with Flick of the Switch. There was a general kind of consensus that we needed to find some way of moving on a little bit. You know the Johnny Winter version of Muddy Waters' 'Mannish Boy?' Where they're all shouting in the background? Basically, what Malcolm had said was that he wanted to try and get that feeling of being in a room with it all happening. I don't think it really worked entirely."
Guitarist Angus Young addressed the decision in a 1983 interview: "We wanted this one as raw as possible. We wanted a natural, but big, sound for the guitars. We didn't want echoes and reverb going everywhere and noise eliminators and noise extractors."
Problems in the studio were immediate, as bassist Malcolm Young's drug and alcohol addictions were an increasing distraction, and drummer Phil Rudd's drug addiction led to his being fired from the band while they were still recording, though all of his drum parts had been recorded. Malcolm assaulted Rudd at a show in Long Island, New York, after the drummer showed up two hours late and couldn't hold himself together long enough to complete the band's encore performances. Rudd was replaced by Simon Wright - who would later be the drummer in the band DIO - after the band held over seven hundred auditions in the US and UK. 
The turnover within the band's camp was too much to overcome in terms of maintaining the cohesion they'd found in their previous works. They fired the producer, the drummer, and even the band's official photographer was kicked to the curb. During the album's promotional tour, Malcolm fired their tour manager, blaming him for the small crowds at their shows.  
AC/DC had pigeonholed themselves with their last three albums. Not only was their musical composition very simple and straightforward, but they'd reached a point where Lange's production was all very bottled up, as well. When that mold was broken with "Flick of The Switch," most people didn't appreciate the change. Even Malcolm commented: "It was thrown together real quick. I wouldn't say it's a great album…" 
Of the band's twenty best-selling albums, "Flick Of The Switch" lands at number eighteen, only outselling recent albums: The "Iron Man 2" soundtrack (2010) and "Rock or Bust" (2014).
I wrote an article (you can read it here) in which I reference the album as one of the worst albums turning forty in 2023. It was for the reasons the band members themselves talk about - it was rushed, there was too much change in production, etc. If "Flick Of The Switch" was your introduction to AC/DC, it wouldn't impress you; it's not typical of what the band produced. If you were already a diehard fan of the band by 1983, the record probably doesn't seem that bad; you may even like it, due to the return to the raw, "live" sound that AC/DC was founded on. Some fan reviews back this up: 
"I had to give Flick Of The Switch another spin today to remind myself that, despite the best intentions of the critics to slam it, this is actually an enjoyable and good album..No, it isn't AC/DC's best album by a long shot, but I reckon it is their most underrated one.."
"It's not "Back In Black," but it belongs to the better albums of the Brian Johnson era. I prefer this album to its predecessor, which had way too much commercial success. It has a stripped-down, raw sound and some cool and slowed-down riffs.."
"Massively underrated. One of the best AC/DC albums, and it has aged better than a lot of them. There's so much energy, and the songs are catchy.."
"Fly On The Wall"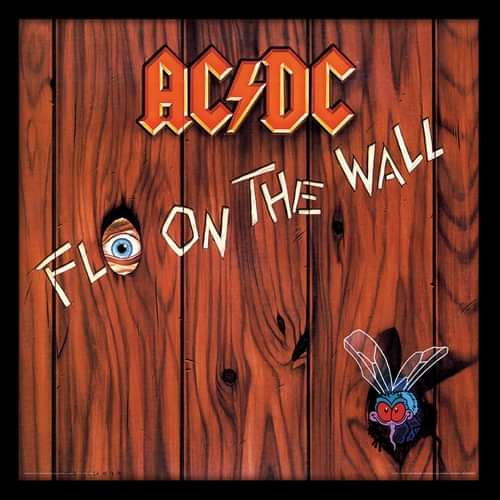 "Fly On The Wall" was the band's June 1985 follow-up to "Flick Of The Switch," and it didn't garner much more success. Of their top twenty-selling albums, this one is placed just ahead of FOTS at number seventeen. AC/DC was still one the biggest rock bands in the world, regardless of the fact that this would be the second album in a row to receive mixed reviews. 
Like FOTS, it was recorded without a name producer. The band took care of the production themselves, but unlike, FOTS, it was Angus and Malcolm who produced the entire album; not the entire band. They recorded at  Mountain Studios in Montreux, Switzerland, the studio where Queen recorded the "Jazz" album. It was the last record the band would produce themselves. 
Though it was largely another flop, two singles stood out - "Sink The Pink," and "Shake Your Foundations," which were both included on the "Who Made Who" soundtrack for Stephen King's movie, "Maximum Overdrive." The negative reviews read exactly as you would expect: 
Rolling Stone: "You'd never guess how sexist and politically incorrect all this is if you didn't read the lyric sheet because you sure can't make out a single word coming out of the dentist's-drill glottis of Brian Johnson, except maybe the song titles, which tend to be repeated like mantras. Angus Young is also in great form, playing the dumbest, most irresistibly repetitive chords in the lexicon."
 AllMusic: "Fly on the Wall continues AC/DC's descent into cookie-cutter mediocrity, with the leering humor of past glories seeming forced and uninspired, and the music remaining somewhat underdeveloped and directionless."
There are others that read very similarly to these, of course, and I don't get the point of them. "Sexist lyrics with simple and repetitive guitar riffs" IS AC/DC. So, to continuously suggest in review after review that they didn't bring anything different, seems like a waste of time, and simply shows a bias towards the band itself. 
The album was further maligned when serial killer Richard Ramirez, "The Night Stalker,' suggested that the album's final track, "Night Prowler," drove him to commit murder. Also, police claimed that Ramirez was wearing an AC/DC shirt and left a hat at one of the crime scenes. 
The album wasn't bad at all and had certainly found some footing in comparison to their previous effort, FOTS. They made five videos for MTV, and those videos breathed life into the music and brought AC/DC into the view of the teenage crowd who were drifting away in favor of new bands like Motley Crue, and Twisted Sister, making "Fly On The Wall" a very important and underrated AC/DC album. 
"Blow Up Your Video"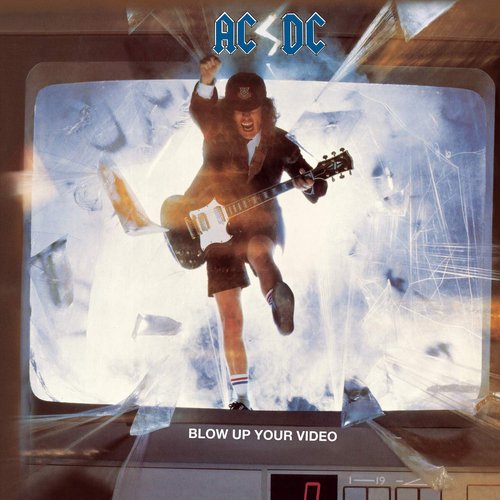 "Blow Up Your Video" was the band's biggest-selling album since "For Those About to Rock,"  It was certified Platinum in the US, reached number two on the UK charts, number twelve in the US, and was nominated for Best Hard Rock/Metal Performance Vocal or Instrumental at the Grammy Awards in 1989. 
The plan and vision that Angus and Malcolm had for the band were shining through once again. Though Malcolm was at his lowest point in dealing with his alcohol addiction, and his nephew, Stevie Young, had to fill in for him on bass during the tour, the band stayed inspired. The album was called "the catchiest since Back In Black" by critics, and the idea of their music being too repetitive was downplayed in favor of just embracing the next round of tracks. It only ranks twelfth out of the top twenty in terms of sales, but it was exactly what the band needed to wake them from the "coma" they'd been in. Songs "Heatseeker" and "That's The Way I Want to Rock and Roll" felt fresh and worked very well as the first two tracks on the album.
Many fans consider it to be their most underrated album, and one of their best, citing the idea that it put them on the right path for "The Razor's Edge" to be as commercially successful as it was.