Worst Albums Turning 50 in 2023
The early 1970s was teeming with music that revolutionized the industry and introduced us to artistic awakenings as no other period has. The landscape was expanding in every direction. Bands weren't afraid to take chances, as record labels feared missing out on the next big thing. The early 1990s "grunge" movement was a fitting representation of that era. Labels were signing any band who fit the grunge label, terrified of missing out on the next Nirvana.  
1973, in particular, produced some all-time classic albums: "Dark Side Of The Moon" by Pink Floyd, Led Zeppelin's "Houses Of The Holy," Black Sabbath's "Sabbath Bloody Sabbath," and "Pronounced 'Lĕh-'nérd 'Skin-'nérd" by Lynyrd Skynyrd to name just a few. 
Bands that are now icons of the music industry also produced albums that left listeners wondering if they really had what it took to bend listeners' ears over the long term. Competition was fierce, and some now beloved work didn't hit the mark upon release. Here are some examples of 1973 releases that left listeners with more questions than answers: 
The Velvet Underground, "Squeeze"
If your introduction to the Velvet Underground was 1973's "Squeeze," you may be left confused. It's been called "a Velvet Underground album in name only," and failed to capture the magic of their previous recordings. Lou Reed was gone, and vocalist Doug Yule, who wrote the eleven tracks, has expressed: "I remember sitting on a plane writing extensive notes on the mixing of the album. I sent it to (manager) Steve (Sesnick), and none of my suggestions were taken; I'm sure he didn't even read it. He mixed it for the best possible commercial success…It's really embarrassing. I gave what I had at the time. There are parts of it I hate and parts I don't. But if I had to do it over again, it would be a completely different album, with different people, and have nothing to do with Sesnick." 
Yule was the only Velvet Underground member to play on the album. Deep Purple's Ian Paice played the drums, and the tracks were recorded with just the two of them. Yule felt it had no feeling because of that: "...he and I would lay down a track. How much interplay can you have when all it is one guitar or a piano? You can hear that; it's kind of dead. I think you get more when you have 3 or 4 people playing together; they feed off each other, they work together, and something comes out of it, it's bigger."
No singles were released, and the album didn't make the charts.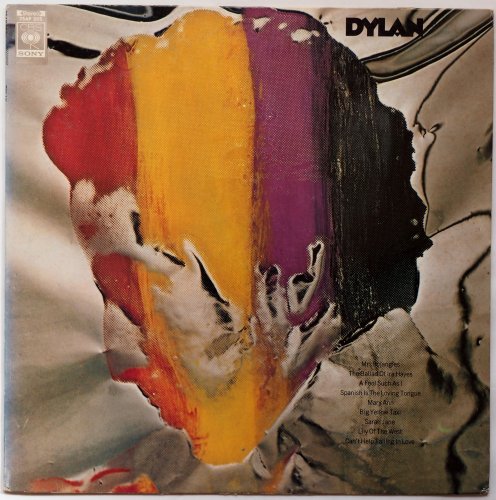 Bob Dylan, "Dylan"
With so many tracks available, it would be a shame if Bob Dylan's thirteenth studio album, "Dylan," was your introduction to his art. Compiled of studio outtakes, the nine-track album failed to chart in the UK, a first for his work. His cover of Joni Mitchell's "Big Yellow Taxi" raised the ire of her fans as being a terrible representation of the song. She's famously spoken out about the fact that she has no respect for him as an artist: "Musically, Dylan's not very gifted; he's borrowed his voice from old hillbillies. He's got a lot of borrowed things. He's not a great guitar player. He's invented a character to deliver his songs; it's a mask of sorts."
"Dylan" was his only record under the Columbia label that wasn't reissued on compact disc. It was only released on CD as part of his "Complete Collection" box set in 2013. Because Columbia owned the rights to these songs that were cut from previous records, they released the album without his input or support.   

David Bowie, "Pin Ups"
In an attempt to do justice to some of his favorite songs, David Bowie released "Pin Ups" in 1973. A poorly executed album that was released as a filler to placate his record label, reviews were primarily negative; his voice was mentioned in multiple reviews as the biggest issue with the recordings. Rolling Stone's Greg Shaw commented that his vocal performance was the album's "true failure" and that it was "a ridiculously weak mismatch for the material." Record Mirror declared the album "unsatisfying, too cluttered musically and over-produced." It's said to be "the only one of David Bowie's '70s records you can safely call 'inessential.'"
Prior to the release, five of his six albums were in the top 40, and three were in the top 15. Though "Pin Ups" spent 39 weeks on the UK Albums Chart and peaked at number one, remaining there for five weeks, it is not an introduction to his work that will leave you wanting to hear more. 

Fleetwood Mac, "Penguin"
The strength of Fleetwood Mac was their ability to balance all the moving parts. Their ability to maintain cohesion throughout their work in spite of creative input coming from all directions was their strength. "Penguin" doesn't continue that tradition; it's all over the place. The bluesy rock themes had been abandoned for a pop-rock sound. It represented the band's best US chart placement to date, but it certainly isn't a fan favorite. It lacks direction and purpose, in no small part due to the use of four vocalists. Mick Fleetwood wrote in his autobiography about bringing in vocalist Dave Walker: "Halfway through Penguin, we started to wonder about our new lead singer, who was often drunk and disorderly around the studio." Walker was brought in after Danny Kirwan was fired for his erratic behavior and a specific outburst backstage in which he trashed the dressing room. 
Being their seventh studio album, it was the worst of the bunch and the one album you wouldn't want to pick out of the pile as an introduction to such a great band. Two years later, Stevie Nicks and Lindsey Buckingham joined the band, and stock in Fleetwood Mac skyrocketed. 

Aerosmith, "Aerosmith"
The debut album from Boston rockers Aerosmith left much to be desired. Though maybe not a wholly terrible album, it certainly didn't suggest that they would take the world by storm. The quintet was comprised of vocalist Steven Tyler, guitarists Joe Perry and Brad Whitford, bassist Tom Hamilton and drummer Joey Kramer. Of the eight tracks on the album, "Dream On," "Mama Kin," and "Movin' Out" were well-received by fans and critics. "Dream On" is now a classic power ballad. The album itself is repetitive and unrefined. Steven Tyler's vocal style isn't established, and compared to other releases of 1973, it falls flat. The tracks on this album don't suggest they would go on to become the best-selling rock band in US history. A review by Allmusic suggests: "(They're) truly an American band, sounding as though they were the best bar band in your local town, cranking out nasty hard-edged rock." Canadian journalist Martin Popoff calls the album "raw, dirty and steeped with squalid integrity," yet "every successive release sounds light years ahead in terms of production, songcraft, maturity, everything." 

Queen, "Queen"
Attempting to capture inspiration from heavier rock bands like Led Zeppelin, Black Sabbath, and Jethro Tull, the debut album from British band Queen left much to be desired. The album is somewhat of an imposter record; it doesn't break any new ground and just plays off the sound and feel of more successful, harder-edged bands that influenced it. A review by Ultimate Classic Rock notes: "...Queen is a product of its time, bringing together prog, metal and even a little bit of folk music... (the album) did little to separate the group from others exploring similar territory in the early '70s."
No record company would release it, so after eight months, the band released it themselves under a licensing deal with EMI Records in July of 1973. It gets a lot of love today, but it's easy to fall in love with it in hindsight when you're simply adding it as a piece to their overall fantastic catalog of songs. Guitarist Brian May alluded to this when asked about the album in 2011: "It had a lot of rough edges, a lot of bad playing, a lot of bad production, but obviously, we didn't have the time to spend on it that we did subsequently. But I would never think of going back and redoing it, or anything like that, because I think it has a freshness we won't have again."